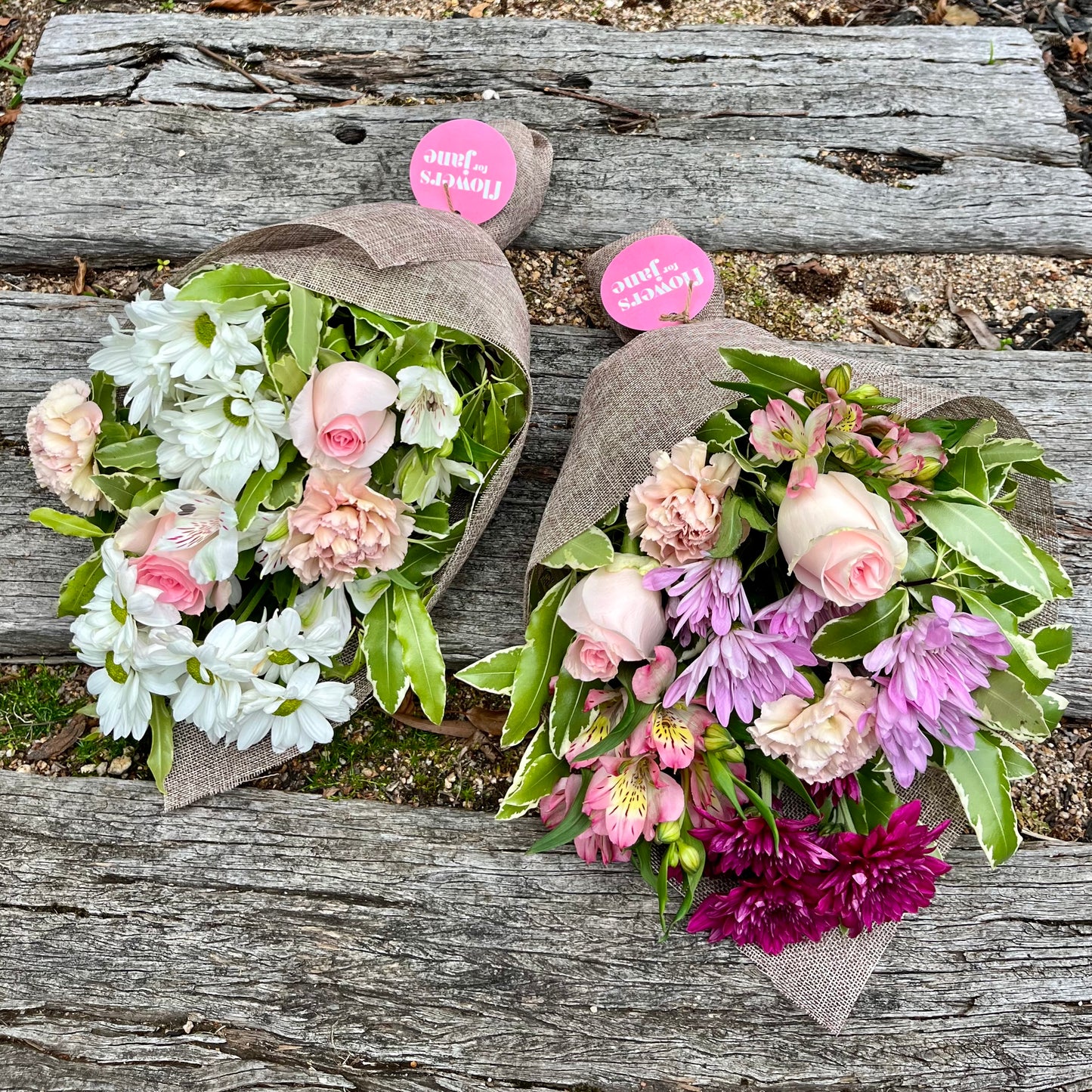 Flowers for Jane Florist near Frankston strives to assure you the best flower delivery experience from over 25 years experience.
We do this with our little pinky promise to you.
Creative director Cassy Canterford has had over 25 years experience in the Floristry industry working for over 10 employers  as an apprentice florist, florist, senior florist and Owner florist.
During this time while serving thousands of customers, Cassy developed a 'Promise' to her customers.
So, now when you place an order with Flowers for Jane we promise that:
*As a small local business we will forever be grateful for giving us a go. 
*We will select the finest blooms for your arrangement and it will be hand made on the morning of the delivery.
*We will hand write your heartfelt message on one of our complementary gift cards. (Extremely long messages, profanity or notes in other languages may be printed from order)
*We will email you a tax receipt and delivery tracking. (We process orders every weekday morning before we begin hand making your arrangements) 
*You can view this delivery tracking at any time to get an estimated delivery time and communicate with our in-house drivers. (delivery tracking goes 'live' and updates in real time once the driver picks up from our studio)
*You can see a photo of the exact arrangement we make for you. You can view a photo of your flowers when delivered via the delivery tracking link. 
*We promise to deliver Same day, or on the delivery date you have selected. This means we will deliver any time on that day between 12 Noon and 7pm. Business addresses will be prioritised and delivered by 5pm.
*Deliveries will be done in order of most efficient delivery run for our drivers.
However, if you email us at forjaneflowers@gmail.com or text 0409017398 we can let you know if we can meet your request. 
All we ask is......
*If you love the convenience of our delivery service and see what we offer as great value, we are so appreciative of you recommending us to your friends or leaving your kind words google review. 
* T's & C's for Same Day delivery cut off -  We offer same day delivery for orders placed before 11.30AM, unless we reach delivery capacity earlier or are closed for a private event.
The website will notify you of this by shading out the dates not available for flower deliveries.