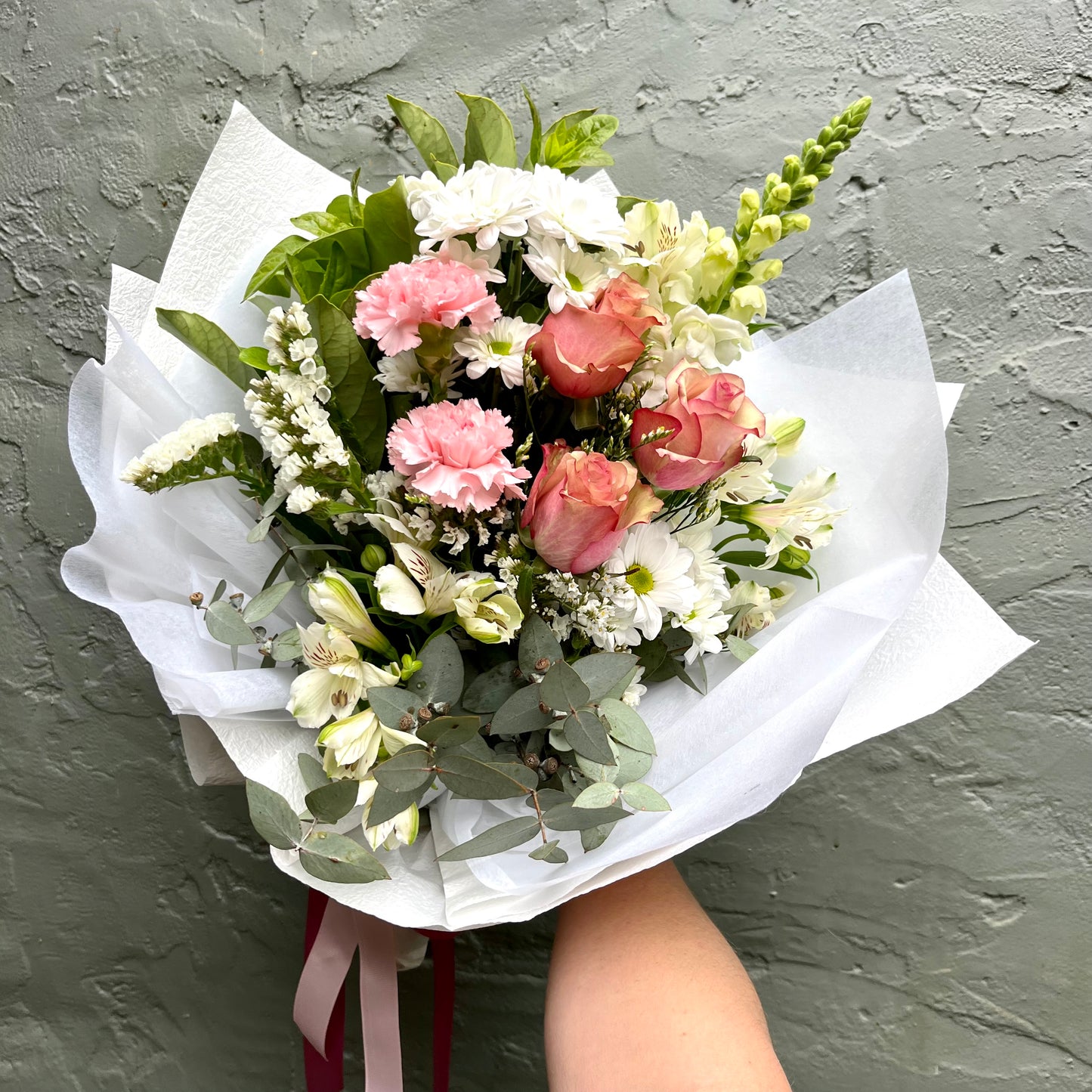 When it comes to choosing the perfect bouquet for that special someone, there are so many factors to consider. The type of flowers, the arrangement, and of course, the wrapping.
But which bouquet wrapping is truly the best? Cassy at Flowers for Jane Melbourne Florist is here to answer that question and help you make the right choice.
1. Classic Cellophane
There's something timeless about a bouquet wrapped in cellophane. It's transparent, allowing the beauty of the flowers to shine through. The crisp, clean look of cellophane adds a touch of elegance to any bouquet. Plus, it's versatile and can be easily paired with any type of flowers. Unfortunately most cellophane is plastic and not biodegradable. 
2. Rustic Hessian
If you're going for a more natural and rustic Hessian is the way to go. It has a charming, homemade feel that adds a touch of warmth to the bouquet. The earthy tones of hessian complement mixed blooms perfectly. These are the bunches from which @flowersforjane grew, beginning in 2014. Lovingly hand made by Cassy each morning and wrapped in hessian they showcase a delightful assortment of seasonal blooms. Each day brings a unique selection pf mixed flowers, ensuring a fresh surprise every time. You have the option to choose between our 'Delicate' or 'Blossom' flower bouquet color palettes, tailored to your preferences.
3. Luxurious Satin Ribbon
For those who want to add a touch of luxury to their bouquet, satin ribbon is the perfect choice. The smooth, silky texture of the ribbon adds a sense of opulence and sophistication. It's ideal for special occasions like weddings or anniversaries. We use satin ribbon with paper wrapping. 
4. Elegant Tissue Paper
For a delicate and feminine touch, tissue paper is the best choice. The soft, lightweight paper adds a sense of elegance and grace to the bouquet. It's perfect for romantic occasions or when you want to show someone how much you care.
So, which bouquet wrapping is truly the best? The answer is, it depends on the occasion and personal preference. Each wrapping option has its own unique charm and can enhance the beauty of the flowers in different ways. Flowers for Jane Melbourne Florist offers both for bouquet wrappings to suit every style and occasion. Whether you're looking for a classic cellophane wrap, a rustic hessian wrap, a luxurious satin ribbon and tissue wrap, or an elegant tissue and paper wrap, they have it all.
Remember, the wrapping is just as important as the flowers themselves. It's the first thing the recipient sees and sets the tone for the entire bouquet. So, take your time and choose the wrapping that best reflects the message you want to convey. Flowers for Jane Melbourne Florist is here to help you make that choice and create a truly unforgettable bouquet.