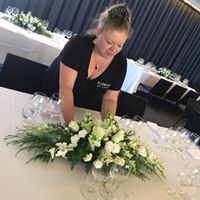 I decided to become a florist when I was 16 (do I dare tell you, back in 1993), I did work experience in year 9 at Julie Ann's Florist in Mentone. Thelma and Kylie inspired me.
Then in 1994 I did a short 6 week course with Victoria Whitelaw of "Victoria Whitelaw beautiful flowers", when she was a teacher at Julie Ann's Florist. She gave me so much encouragement and made me believe I had talent and one day could open Flowers by Cassy.
Finding an apprenticeship was really difficult. Every single florist from Melbourne to Mornington received my resume and got a phone call. While I kept looking ended up completing VCE and managed to achieve marks in the top 10% of the state for technological subjects (Food technology, textiles, and graphics).
After VCE I enrolled in Certificate II in Floristry at Box Hill Institute. Back then they were the only TAFE/School where you could gain your floristry qualification. Part of our course was work experience and I was lucky enough to find Pixie Dell Florist in East Bentleigh that needed someone full time. Years ago a Floristry trade certificate took 3 years to complete. The 40 hour work week was made up of 4 days on the job, 1 day training at Box Hill Institute, and I cleared $198 in total.
In this time the opportunities were amazing. Working at the Melbourne International Flower and Garden Show helping Melbourne's best and famous florists set up. Demonstrating for Interflora with Box Hill Institute. Entering Interflora's Floristry competitions. Designing costumes for Box Hill Institutes yearly productions.
I continued my dream of owning my own business by working in a handful of other florists all around Melbourne. The highlight of my career was being 'Senior florist' at Bloomsbury flowers in Camberwell.
Over my time in the floristry industry it's been really interesting to see how each business did things differently.
Each had different target markets, attracted different types of clients. Each sold different types of flowers and arrangements that suited their clients. 
Since then, 17 years later, I have raised three children who are now 8, 15 and 17. Gone through a divorce and now have a new partner with 2 step kids, who are 3 and 5. I have an abundance of business knowledge and life experience to apply to offering you the best service and quality flowers.
Moving Flowers by Cassy from my home garage where I began in 2017, to a Warehouse studio in 2018 was a scary step.
I absolutely love the space and being to open the roller door to let the outside in. It's located in cheltenham at 8/320 Reserve Rd.
My studio is strictly by appointment to discuss bespoke wedding flowers or events.
In the past year I have gained an Easy Weddings 5 star certificate of excellence and appointed ABIA Bronze member status and been featured in Melbourne Wedding and Bride magazine.
I do not sell 'cut flower bunches' for passing trade like a traditional florist. I'll leave that to the flood of other stores who offer bunches straight from the farms. I have chosen to do this because I do not want to be a flower seller, I want to be a florist and create magical arrangements.
It also allows me to work around my children and be home after school finishes.
This year I saw an advertisement for an Online florist for sale. I couldn't resist and in September 2019 I took over Flowers for Jane.
Flowers for Jane is a similar business model to Flowers by Cassy, being that it's an online business. The increase in work has just blended in seamlessly.
How my day looks now:
Each morning after picking up my fresh flowers from a local wholesaler, I have a morning of chaos and a mountain of scrap foliage. I like to personally choose the flowers that will have my business name on them. Think of shopping for flowers, like shopping for fruit and vegetables. It's hard to allow someone else choose for you. They never quite pick the quality you are after.
I love hand making each arrangement myself but now with Flowers for Jane I've had to get some help. Then I send all the flower deliveries out with my in-house floral couriers.
Having in-house couriers allows me to offer better service for my customers. We can do a better job of fulfilling each order's special requirements and time restraints. I still use other courier services too. This is to offer a wider delivery zone. Suburbs which my in-house couriers can not deliver to. For these suburbs my website will give a delivery quote directly from the courier company.
When the couriers are on the road, I spend the afternoon having coffee dates with newly engaged couples and new customers. Actually, it's not always that exciting, sometimes I work on my book keeping and scrub bucket and vases :).
I invite you to check out my work and how I can help you cherish your friends and family flowersbycassy.com.au. for your wedding, event and bespoke flowers and now www.Flowersforjane.com.au  for something simpler, when it's the thought that counts.
I am determined to be the best flower delivery service in Melbourne and continually strive to improve my business everyday. 
I look forward to 'Wowing' you. Cassy XX