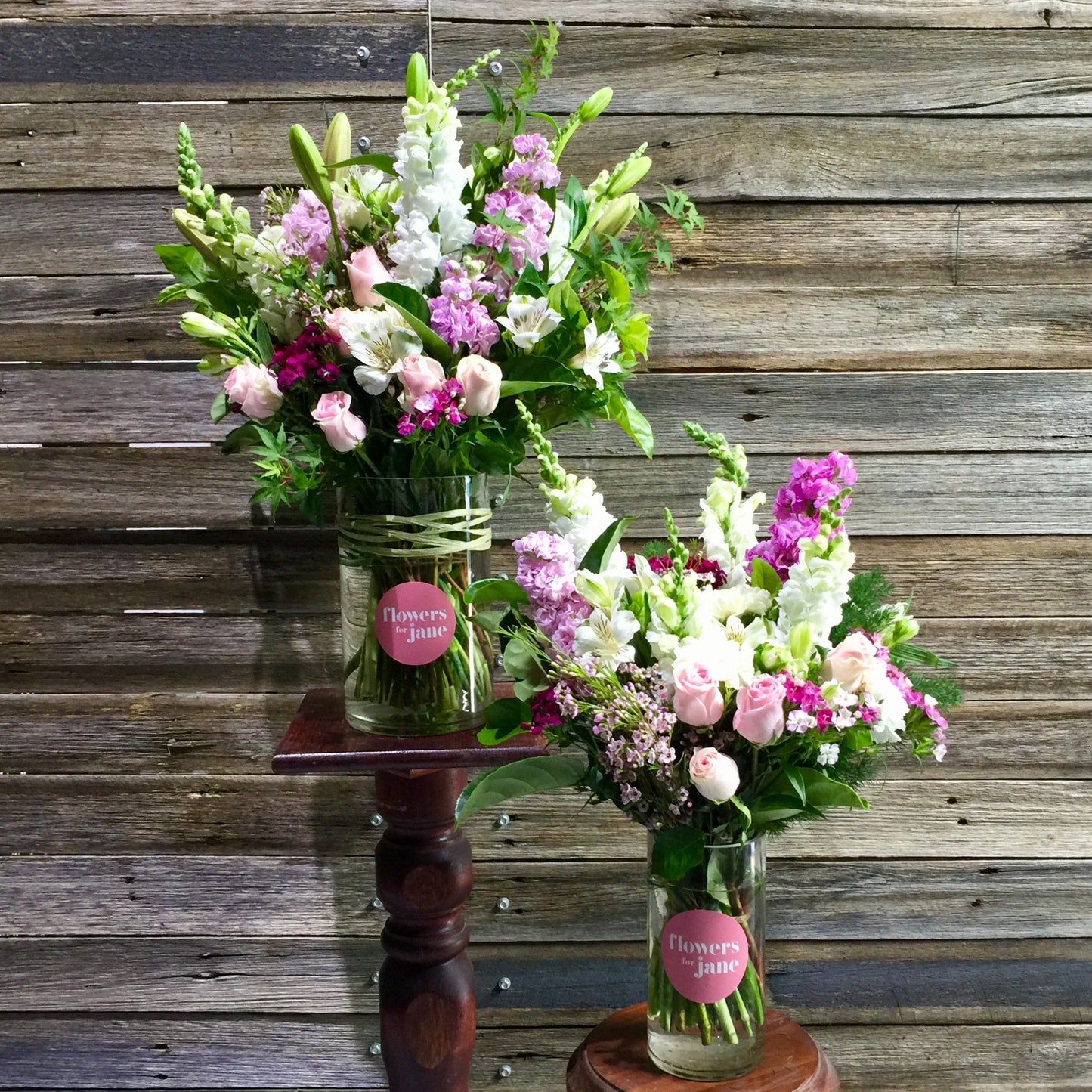 With Christmas fast approaching I've been getting many enquiries asking "What are the best flowers to send this Christmas 2019?"
I always suggest a mixture of fresh seasonal flowers fro Christmas. Just like with fruit and vegetables, if you choose seasonal, you'll get the best quality and the most affordable arrangement for your budget.
At flowers for jane this is exactly what we offer. Flowers chosen every morning from our wholesaler to create arrangements full of the "flowers of the day".
These flowers are uploaded on our website homepage each morning.
I think a mixture is often best, as the flower bunch will keep looking good for longer.
Industry standards state 5 days is acceptable under the right conditions. You will find some buds will open quickly, while others will take a few days, keeping the arrangement looking great.
We have some gorgeous summer flowers in Australia which are available as cut flowers, like hydrangeas, alstroemeria, roses, chrysanthemums, carnations, lilies, and singapore orchids. Occasionally due to weather conditions, the seasonal availability differs. That is why it's best to leave the flower choice up to your florist.
When it comes to the type of arrangement which is best for flower delivery in Melbourne this Christmas 2019. I suggest our posy jar or Deluxe Vase. It comes in it's own water source so there is no mess or fuss. No need to find a vase or unwrap.
I would say this is the best flower arrangement to send to a workplace or business address.
Hessian wrapped flowers at Flowers for Jane are always 'wet packed' too, although keeping flowers in deep water not just wet tissue is best. 
Our hessian wrapped flowers start from $35 which is one of the best valued bunches offered in Melbourne for same day delivery.
More than just flowers we stock a beautiful selection of candles, Salus body hand cream and spa products. If you are looking for a flower and gift delivery service in Melbourne I recommend taking a look at what Flowers for Jane can offer.
New to Flowers for jane is live tracking of your delivery.
Ever been worried about if your order has left the florist or when it will be delivered? 
With Flowers for Jane there is no need to panic as you will get notified at all points in the process.
From order confirmation, flowers on the road, estimated time of delivery, then instant notification when it's been delivered. Even see who signed for the delivery...WOW.